Sweet words and inspiration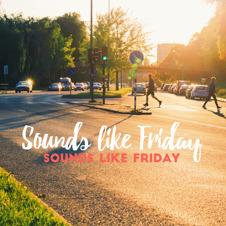 "The Swedish indie-dance duo Sounds like Friday released their debut EP on the 11th.
The eponymous five track release extends a gracious arm towards the audience and invites them onto the dance-floor to join in with the light textures which fill the room. Ranging from popular music to funky-soul the duo deliver an EP to take out anytime there is a thought of a party.
The middle of the five tracks - My Bleeding Heart - is my pick of the release as it is the most complex and slowest on the EP with vocal showcased inside ringing instrumentation."

Thank you, Tim Whale at Emerging Indie Bands blog for this beautiful review!

Listen on Spotify!
Buy on iTunes
Buy on Amazon


When we worked on our EP we really felt we wanted to continue exploring the field of using vocals and percussion only. We, as well as the reviewer above, felt there was something extra about the song My Bleeding Heart, which was made this way. So this is what we're experimenting with right now.
We're having so much fun focusing our sound designing skills on all things possible to do with voice sounds and playing rhythms on things like beds, floors, pieces of wood and cans, and look forward to sharing the results with the world further down the road!