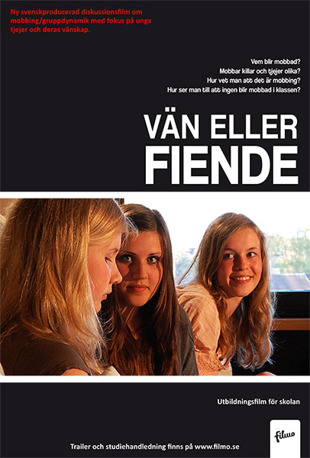 Release in the Fall of 2013. Short film Vän eller Fiende (Friend or Enemy) by Naseem Quarishi Larsson with music composed by GroBe music.

Mobbing och utanförskap i skolan är ständigt aktuella ämnen. Men vem är det som mobbar? Hur kan gruppdynamik spåra ur? Vad får välfungerande ungdomar att börja mobba? Det var frågor som filmskaparen och organisationskonsulten Naseem Quraishi-Larsson ställde sig.

Tillsammans med dottern Nathalie Larsson (13 år) producerade hon diskussionsfilmen "Vän eller Fiende". En novellfilm som framför allt belyser tjejers beteende sett både från mobbaren och den mobbades sida. Nu säljs filmen till skolor som diskussionsunderlag för att få ungdomar att medvetandegöra sitt eget beteende och förstå sitt ansvar.

-"Vi hör ofta talas om mobbingoffer och allt de går igenom. Jag ville veta vem det är som ägnar sig åt mobbing. Belysa hur små missförstånd, helt i onödan, kan växa till att engagera en hel skola och hur man kan hantera det. Spelfilm är ett starkt verktyg för att få fram attitydförändringar Jag vill få ungdomar att förstå sitt eget ansvar och att det är summan av våra beteenden som får människor att må dåligt och tappa livslusten", säger Naseem Quraishi-Larsson.

Novellfilmen "Vän eller fiende" handlar om Ida som kommer som ny elev till en sjundeklass. Hon blir kompis med Rebecca och Sofie och snart uppvaktad av en kille i klassen. Strax uppstår svartsjuka, konkurrens och avundsjuka mellan de tre tjejerna, vilket är ett vanligt fenomen i skolan. Detta leder till utanförskap, mobbing och fler i klassen dras in i en negativ spiral. Ofta är detta ett "under ytan-problem" som de vuxna inte ser. Filmen slutar dock i en försoningsprocess för att belysa att det går att hantera dessa problem och lösa upp konflikter.

För att få en verklighetsnära uttryck engagerade Naseem sin dotter och hennes klasskamrater som fick stort inflytande i inspelningsprocessen. Även hennes familj, grannar och lärare på Villastadsskolan i Hässelby finns med som skådespelare. Detta har gjort filmen oerhört autentisk och ärlig och har givit den en hög igenkänningseffekt. Mobbing pågår hela tiden i skolor och även bland vuxna på arbetsplatser.